Bilge Pump Float Switch LS-CF12
| See more "Cable Float Switch" Products
product category: Cable Float Switch
Model: LS-CF12
Viewed:

Product Detail

Bilge Pump Float Switch LS-CF12

A bilge pump float switch is a smart device used in boats that turns on a bilge pump when the water in the bilge reaches a certain level. It is a must-have in any boat that is left unattended for any length of time, as all boats tend to leak at least some water. This switch is submerged, so you need to waterproof the electrical connections and hang the wires to ensure they stay as dry as possible.
Our bilge pump float switch LS-CF12 is safer than mercury switches, this switch utilizes a mercury-free rolling ball mechanism and includes an exclusive anti-spike feature to prevent the rapid on/off cycling encountered with some switches. Made of rugged thermoplastic. Universal design works with all 12V, 24V and 32V bilge pumps.
Wiring drawing of bilge pump float switch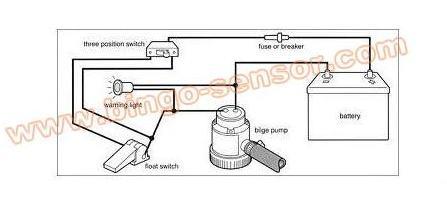 1. Turn pump on when water level reaches 2'' (51mm)
2. Turn pump off when water level reaches 3/4'' (19mm)
3. Ideal flow sensor for bilge pumps
4. Heavy duty flow switch is designed for the toughest applications

| | |
| --- | --- |
| Product Name | Bilge Pump Float Switch LS-CF12 |
| Max Amps 12volts | 30A |
| Max Amps 24 volts | 15A |
| Max Amps 32 volts | 12A |
| Wire length | 1m |
| Wire gauge size | 18 |
| N.W/N.W | 0.16/0.18 |
If you need

Bilge Pump Float Switch LS-CF12, please feel free to contact us for price by submitting "more information" as below !

More information

If you have any enquiry about pricing or cooperation, please feel free to email us at 

sales@bingo-sensor.com 

or submit the following enquiry form or leave us a message by clicking the chat button suspending on left side of website. Our sales representative will contact you within 24 hours. Thank you for your interest in our products !